Peavey VIP3
Once again Peavey Electronics revolutionizes the modeling amp industry. Introducing the world's first Variable Instrument Performance amplifier, the VYPYR® V.I.P. The world's first amp that contains Bass guitar, Acoustic guitar and Electric guitar amplifier models. Now for the first time ever using our Variable Instrument Input a single amp can provide amplification for a variety of instrument types. Not only does the amplifier morph from a bass amp to an acoustic amp, to an electric amp. It also, for the first time ever in an amplifier in this category, allows the electric guitar player access to instrument models as well. Using appropriate technology, Peavey uses a combination of powerful 32-bit, floating point SHARC processors and patented Transtube® analog circuitry to create the best sounding modeling amplifiers available. Nothing sounds as good as a VYPYR. All VYPYR effects, amp models and parameter controls can be accessed via the amp itself, with no need to hook the amplifier to a computer. Peavey's WYSIWYG control surface quickly allows the user the ability to see and adjust the control position, no guessing where the control is supposed to be, or having to manually move it to where it should be preset to preset. VYPYRs new USB bi-directional data and audio port provides and easy way to record, and or connect to our VYPYR software and store presets, get lessons, and practice to backing tracks while connected to your computer. All of the revolutionary features from the original VYPYR series now even better. More power, more effects, more amp models, Variable Instrument Input, instrument models, and more make this the ultimate amplifier.
Peavey Rage 258RM
The basic building blocks of the TransTube® sound are the exclusive designs of the preamp and power amp. The preamp section tailors gain to meet the need for any amount of drive, from crystal clear to thick, smooth sustain. The power amp reacts just like a tube output section by responding to the preamp with natural compression that increases as the amp gets louder. With TransTube®, you get a killer amp with widely ranging dynamics and natural "grit," just like a tube amp!
Peavey MAX 110
Peavey – MAX 110 TRANSTUBE EMULATION
If you're tired of lugging around heavy gear to small gigs and rehearsals try plugging into the MAX 110. Its 20W of power drive a heavy-duty, custom-designed, 10″ Peavey woofer to generate ample volume and punch. Peavey's exclusive, patented TransTube circuitry gives you a choice of 2 distinct voicings–vintage and modern–for covering a wide range of sounds and music styles. A semi-parametric EQ adds further tone-shaping capability with low, mid, mid shift, and high controls. Perfect for small. lower-volume gigs, and rehearsals. With its CD input and headphone output, it's a great practice bass amp, too.
Randall RX25RM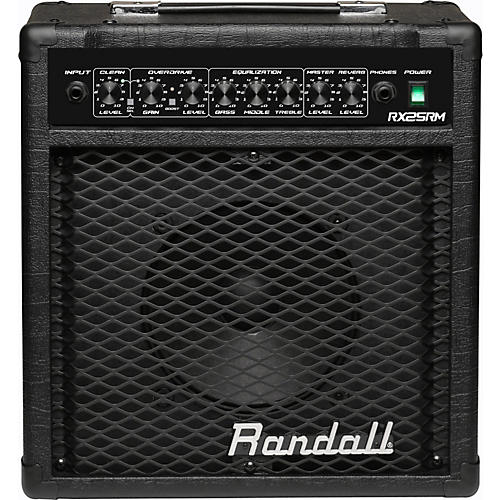 The 2-channel 25W Randall RX25RM combo uses a 10″ jaguar speaker for big high gain tone and a fat clean sound….Click To Read More About This Product
Stagg 10 GA
10w rms guitar amplifier with 1 x 6.5″ speaker

High impedance instrument input

3-band eq (bass/middle/treble)

Overdrive switch for versatile distortion sounds

Headphone port and stereo input for cd/mp3
Hartke GT60
60 Watt 2-Channel Guitar Amplifier
Features
60 Watt 2-Channel Guitar Amplifier
12AX7 Tube Pre-Amp Section with Independent Channel Gain
Bass, Mid (channel 2 only) and Treble Controls for each channel
Built in Spring Reverb and Effects Loop Send/Return Jacks
1/4-inch Stereo TRS CD Input Jack; 1/4-inch Headphone Jack
Jack for channel selection footswitch
Laney LX35D
The twin channel LX35D packs a serious punch for a compact package and the rugged metal grille, metal corners and tattoo graphics give it the looks and strength to be taken to the extreme. Features include 15 program digital effects, global EQ, CD input, headphone socket and a 1x 10″ custom speaker. Also check out the LX35 and LX35R non-reverb and reverb equipped versions.
KICK12
400 WATT INSTRUMENT AMPLIFIER/PA
4-channel mixer with stereo line inputs on each channel and an XLR input on Channel 1
400 Watts peak power, 200 Watts continuous
True bi-amped design provides dedicated power to high and low drivers
12" low-frequency transducer, 1" compression driver
Custom-tuned electronic crossover provides superb frequency response
Built-in Alesis digital effects processor with reverb, delay, chorus, and more
256 effect presets: 16 effects with 16 variations each
Integrated folding steel kickstand provides the ideal monitoring angle
Level, effects, and high & low EQ controls on all four channels
Stereo RCA input for connecting MP3 players and other audio devices
Footswitch input allows instant activation or bypass of effects
1/4″ headphone output with dedicated volume control
Angled speaker baffle for the best sound projection into the listening area
Dual XLR and 1/4″ Mix outputs
Ground Lift switch